Guitar cases get dirty. It's one of the things they are designed to do. Anything that gets on the case is prevented from getting on your guitar. If you're in the unfortunate situation of getting some sort of mess on your case, congratulations! A disaster was averted. But now you've got to get about the business of cleaning your guitar case. 
Because guitar cases and gig bags are designed to protect your guitar, the outside of nearly all guitar cases and gig bags can be easily cleaned with a few household items. Lightly wet a clean, soft cloth in a mix of warm water and a bit of dish soap. Then thoroughly wipe the case down, giving a bit of extra elbow grease to any particularly offensive areas. When satisfied, use a clean, dry cloth to dry the case or gig bag and you're on your way.
The more often you clean your hard case or gig bag, the easier it is to keep it clean. There are, inevitably, some exceptions to the rule and you should always check with the manufacturer to confirm their recommended cleaning procedures for your particular case. Leather, particularly suede, can be irreparably damaged by water. Leather cases are typically treated with a protectant but that is not always the case, no pun intended. Always treat a leather case with a leather conditioner according to manufacturer recommendations after cleaning.
How do I clean a guitar case?
There are essentially only two types of guitar cases and how you clean them can differ widely. The most common guitar cases one can typically buy are hard cases and gig bags. Within those two types are a few varieties.
Hard guitar cases provide the greatest protection and come in a range of varieties including molded plastic, wood, and chipboard (to be frank, chipboard guitar cases should not ever, under any circumstances, be considered a 'hard' case nor used to protect your guitar. Chipboard, for all sense and purpose, is basically cardboard and provides no real protection from impact).
Soft guitar cases or gig bags range from high end, padded bags down to what essentially amount to a dust cover with a pocket and a zipper. Most gig bags are machine washable (always check with the manufacturer before putting a soft case in a washing machine).
Cleaning either hard cases or gig bags is simple and can be accomplished in a matter of several minutes.
What you will need:
Two clean, soft cloths 

Warm water

Dish soap

Soft bristled toothbrush or scrub brush

Several minutes
You can use any type of clean, soft cloth for cleaning and drying your guitar case. Old concert shirts, sheets, towels, or paper towels will work. 
Start by meticulously vacuuming out the inside of your case, or if you have access to one, use an air compressor to blow all the dirt, dander and Flamin' Hot Doritos from the nooks, crannies and pockets.

Mix one drop of dish soap in to one cup of warm water.

Wet one cloth in the water/soap mixture and thoroughly wring out as much water as possible.

Wipe down the entire outside case giving special attention to anything sticky or caked/dried on. Anything that does not easily wipe off with soap and water can be addressed with the toothbrush or scrub brush.

Using the other soft, dry cloth wipe the entire case down paying particular attention to ridges, edges, and seams where water can collect.
In some instances, the inside of your hard guitar case can also be cleaned with soap and water. Some manufacturers recommend it only if absolutely necessary. If we learned anything from Forrest, Forrest Gump it is that (to paraphrase) stuff happens, sometimes. If you have spilled fondue or a beverage inside your case, or a particularly malfeasant cat has laid claim to your case as its own, the mess can be tackled with soap and water. However, in my experience, the soft lining never really fully returns to its normal, soft, fluffy texture. I only recommend cleaning the inside of a hard case with water if absolutely necessary. A wet/dry shop vac can be used to help remove excess water from the lining, helping it fluff up again and preventing the fibers from clumping together. The more water you can remove before allowing the inside of your case to air dry the closer it will be to its original state.
When you do clean the inside of any guitar case with water, make absolutely sure the case is completely, 100% dry before putting the guitar back in it. I cannot stress this enough – if the inside of the guitar case is wet it will damage the finish and even the wood. The cost to repair the guitar will most certainly exceed the cost of a new case.
Can you put a guitar case in the washing machine?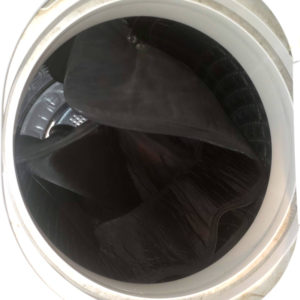 For hard cases the obvious answer is 'no.' They won't fit in a washing machine. If this isn't obvious to you you probably shouldn't have a guitar. Or a washing machine…
Under most circumstances, just washing with a cloth is sufficient. But aromas, such as cigarette smoke, pet odors, or the trout your drummer put in your case thinking it was hilarious, are much more difficult stains to remove from a guitar bag. 
Guitar bags are, in most cases, machine washable. Again, always check the manufacturer cleaning instructions before attempting to wash your case. If your guitar bag will fit in your washing machine (and you have checked with the manufacturer) then Bob's your uncle and it can likely be machine washed. 
What you will need:
A washing machine

Laundry detergent
Keep in mind that gig bags are not as pliable as clothing and it won't neatly fall into balance. You will need to keep an eye on the washing machine to make sure the drum is in balance, especially during the spin cycles.
Unzip your gig bag and open all the pockets removing all of their contents.

Place in the washing machine and do your best to try and balance the bulk of the case around the inside of the drum.

Set your washing machine on a gentle cycle using warm water for the wash and rinse cycles.

Hang the gig bag in a well ventilated area, preferably outside. Drying time will vary depending on humidity/aridity and temperature but allow it to air dry for at least 48 hours. Make

absolutely

sure the case is completely, 100% dry before putting the guitar back in it. If the foam is even slightly damp it

will

damage your guitar.
Some high end guitar bags or soft guitar cases contain thicker, stiffer, and much better quality foam and will not fit easily in a washing machine and will therefore need to be washed in a bathtub. 
How do you clean a soft guitar case?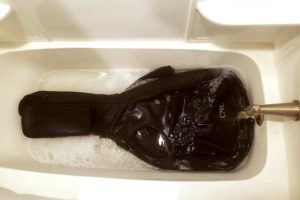 If you have a large or heavily padded soft guitar case that won't fit in your washing machine you can wash it in the bathtub. 
Fill the tub with warm water and a small amount of dish soap.

Empty everything out of your soft guitar case and unzip/unvelcro all pockets.

Submerge the guitar bag in the water and agitate it intensively with your hands.

When satisfied, rinse thoroughly with clean, warm water. Continue to rinse the gig bag until the water you squeeze out is clear. When the water is clear, squeeze as much of the remaining water from the foam as is physically possible.

Hang the soft guitar case in a well ventilated area, preferably outside. Drying time will vary depending on humidity/aridity and temperature but allow it to air dry for at least 48 hours. 
To reiterate a final time, make absolutely sure the case is completely, 100% dry before putting the guitar back in it. If the foam is even slightly damp it will damage your guitar.
Keep your guitar case clean
I am a strong advocate for frequent, light cleanings of your guitar cases or gig bags with a cloth and simple soap/warm water mix. I recommend a quick wiping down of your guitar case or gig bag with warm, soapy water every time you change your strings. Or perhaps every time you change your clocks (assuming you live where daylight savings is observed). Heavier cleanings of your cases in a washing machine or bathtub can expedite the degradation of the foam in your soft cases, shortening their efficacy or lifespan. By maintaining a routine of quick, light cleanings it will prevent you from having to employ more extreme cleaning methods as well as saving you both time and money.
Recent Content
link to How to Properly Clean a Pipe Organ
Pipe organs contain many moving parts with cracks and crevices where dust and dirt can pile up. Additionally, the organ's keyboard can harbor and spread germs, so it should be cleaned...
link to How To Clean A Hammond B3 Organ
Cleaning a Hammond B3 Organ may seem like an intimidating task, but it can be relatively simple. While deep cleaning may need to be referred to a professional, routine maintenance can easily be done...